After decades of gender equality efforts in many parts of American life, studies show that the American film, television, and theater industries are sectors that have made little progress and when it comes to gender balance, things don't look so equal. It is no secret that the American film industry overwhelmingly favors male actors.
According to BBC, almost nine out of 10 films have more leading men senior roles, both acting and non-acting (Quick, 2018).
Similarly, in another recent study by San Diego University that examined the representation of female characters on the top 100 grossing US films of 2017 and the findings revealed that women accounted for 34 percent speaking roles, and 37 percent for major characters, no change from 2016 (Lauzen, 2018). While men accounted for the other 63 percent. The share of lead female actors in these films has remained static over the same period.
In another study, movies with women in the leading roles decreased five points, from 29 percent in 2016 to 24 percent in 2017, when looking at the 100 highest-grossing projects of the year.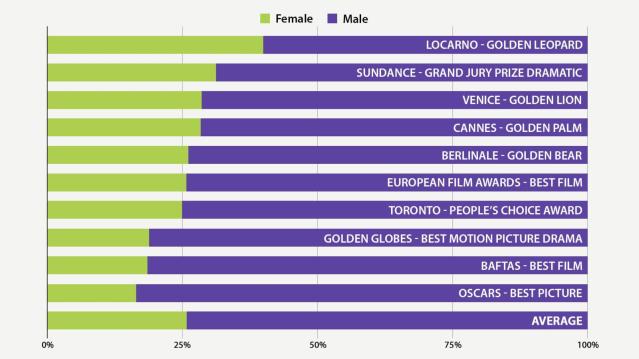 "Only one woman has ever won an Oscar for best director, Kathryn Bigelow for The Hurt Locker in 2009."
No matter what study you look at, the data across tells an all-too familiar story of gender exclusion. The numbers demonstrate how much more work is ahead.
The Muse Project, an experimental project that upends the traditional theatrical structures, is working to do just that. It is working tirelessly to change the currently stark outcomes of studies that we see today in the American theater industry, where the numbers aren't much better than they are in film and television (The Count, First-Ever Diversity Study Showing Disparities in Hiring in the Theatre Industry). The Muse Project is currently leading a Kickstarter campaign for their 2018 projects.
We caught up with Jocelyn Kuritsky, Founder & Producing Artistic Director​ of The Muse Project, to hear from a leader in the field and to learn more about the work they are doing.
How would you describe The Muse Project and its mission?
We seek to disrupt the imbalance of opportunity and ownership of work for women actors through the development of challenging, actor-driven theater works and focused research into their participation in American theater. Our company shifts the theater paradigm through the empowerment of women actors as creators and content generators.
The Muse Project "seeks to disrupt the imbalance of opportunity." Tell us about the work you all are doing to do just that.
One of the most important things we do is ask women actors what roles they want to play and what stories they want to tell, and then we ask them what resources they need to create that role and tell that story. Traditionally, the American theater system dictates the roles that women fulfill… (women are often told what roles they should play, and therefore what stories they should tell, not the other way around), so this is a very different approach.
Do you think it's the time we move away from the traditional theatrical model?
Well, I don't necessarily think that the traditional model is bad or wrong, but I do think it's old. And systems need reinvention and shake-ups, or they stagnate. Systems need to be challenged, and that's what The Muse Project is: it's a challenge. That said, there's some real merit to the older structures… there's some rhyme to that reason for sure, but it needs to be questioned. All systems should be questioned, and the older they get, the more they should be questioned, I think. We're in a time when institutions are being tested, and I think it's a good moment to embrace that on a myriad of levels.
Tell us about the work the Muse Project is doing to help to "flip power" in today's theatrical model that still overwhelmingly favors male actors.
There is actually a dearth of research when it comes to women actors in the theater, and that's a problem because that makes it difficult to quantify and qualify what's really happening on American stages; but, we basically know women actors *maybe* play about 35% of the roles presented onstage. That's a steep imbalance, especially if women comprise roughly 51% of the population in the U.S. So, that alone, tells me there's a problem, and, I'd say, The Muse Project helps "flip power" by seeking balance.
We commission women performers to spearhead their own work, and then help them grab onto the ideas that excite and perhaps even scare them the most. What do they want to try?! That's Muse. We are an incubator for women actors' most dangerous ideas. And then we really "flip power" by taking up space with those ideas.
Can you tell us about the 2018 Kickstarter campaign and projects it will be supporting?
The 2018 Kickstarter Campaign is a big effort to raise 15K (no later than September 7th). It's an all or nothing campaign because I wanted it to be driven with a level of intensity and focus and seriousness, and it would be great if we could raise even more than 15K, because 15K is the bare minimum we will need for the work we are doing this fall.
This October we are planning to partner with a company called The Flea Theater here in New York City. The theater was founded by the well regarded downtown theater artists: director Jim Simpson, playwright Mac Wellman, and designer Kyle Chepulis. The Flea has actually been a longtime home for me as an artist. As a younger actor, I was a member of their resident company, The Bats. And last year, I was approached by Carol Ostrow (the Producing Director) about partnering this year. I thought it would be a wonderful opportunity to push The Muse Project forward and take advantage of the beautiful new building that The Flea just moved into. So, we are now planning to be there for a week in October, presenting projects helmed by 5 extraordinary performers and their collaborators. The performers are Vanessa Aspillaga (Lucille Lortel nominee), Lynn Cohen (Sex and the City, The Hunger Games, Munich), Jessica Frances Dukes (Obie Award winner), Déa Julien (Glamour Magazine's Top Ten College Women), and Kyra Miller (San Francisco/Bay Area Critics Circle Award nominee). Their collaborators, so far, include director Seret Scott, dramaturge Taylor Barfield, director/playwright Morgan Gould, director/playwright/activist Katie Pearl, director Ian Morgan, and a very well-known comedian I might not be able to announce yet… I can't tell you a lot about their projects right at this moment, but several of the women are pursuing very interesting takes on the one-woman show model, which I am excited about.
So, the money we are raising is gonna go to these women (the actresses) and their collaborators. That's where the bulk is going for this round. A small amount will also go to The Flea for our discounted occupancy of their theater space, called The Pete. We are planning to have another fundraiser when we are actually at The Flea to cover other costs. No one is making much money here, but the Kickstarter represents a commitment to paying artists, and it's very important because theater artists are consistently underpaid or not paid, and most stage performers do not make a living wage (and they should).
Who are the Muse Ambassadors and how are they helping this Kickstarter 2018 campaign?
The Muse Ambassadors are an incredible group of supporters, colleagues, and artists that have been (for the most part) going on Facebook Live with me to tell their communities why they think The Muse Project is so important, and why they think people should pledge. Some of them also offer limited rewards for the campaign. We've had some truly awesome, in-depth conversations that folks chime into, and then hopefully we generate some pledges. The dialogue surrounding the ideas of Muse and the KSR Campaign has been extraordinary. The Ambassadors have all brought really unique, thoughtful perspective, and they have ranged from folks like my friend Joe Wang who works in Finance/IT to musician David Poe to fellow actresses, like Pepper Binkley. And, we have more actress Ambassadors coming up, including Sheetal Sheth (Looking for Comedy in the Muslim World) and Geneva Carr (Bull).
How can people support this campaign? Where can people go to learn more about the projects it will be supporting in 2018?
People can support the campaign by pledging. That is truly the most helpful thing people can do. Money matters, and all the dollars add up. Money is a form of activism, and when people choose to funnel their money into initiatives like The Muse Project, it makes a difference. Pledgers will, quite directly, affect our artists (the money goes to them) and the ability of our artists to tell stories from a woman-centric perspective. And then pledgers become part of our movement – with their dollars. This is a big deal. Here's why: Women's stories are horrendously underrepresented and undervalued across most storytelling forums: stage, film, television, journalism, literature, you name it. This is unhealthy, this is toxic. We are off balance.
A few years ago, playwrights Marsha Norman and Julia Jordan drove an effort to collect data on women playwrights (The Count), and what they discovered was that, nationally, about 20% of plays produced in the United States are written by women… this means roughly 80% of the plays being produced on American stages are written by men. This is absurd. This is insane. Generally, what this means is our collective narratives are so men dominated, we don't even know what we don't know. We have no idea what the world looks like because we're not allowing the majority's stories to be told (on stage, on screen, in film). Women are the majority. If women are 51% of the population, women are the majority. We're not telling the stories; and, on the stage, in the theater – one of the oldest hubs for storytelling – we are severely disproportioned. The system needs a challenge. And my thinking is this: we have a wealth of talented, smart women actors – an enormous wealth – and we don't use them. Why?! It doesn't make sense. If we start taking the person with, traditionally and historically, the least amount of power (the woman actor) and give them the torch, what could happen? We know there's a guarantee of a woman's story when the person at the helm, from the outset, is an actress. And we know that more women's stories are necessary for the health and balance of the theatrical ecosystem. That's where Muse begins.
Money can be used to increase inequality and throw things into further disarray. Money can also be an epic force for good. Putting your money into women and women's stories is one of the most important things anyone can do right now to help create balance. Please pledge to The Muse Project. And tell your friends.
Jocelyn Kuritsky is an actor, theater practitioner, and filmmaker. She is a founder and the resident performer of the acclaimed theater company, Woodshed Collective. She is also the founder of Staging Film, an ongoing, experimental project that is designed to meld the stage and screen. Jocelyn is a New Group artist, and she is affiliated with a variety of Off and Off-Off Broadway theater companies.